FEATURED ARTIST: Brave Girls
Brave Girls (브레이브걸스) is a 4 member girl group from Brave Entertainment (home of the famous Brave Brothers and DKB, and former artists BigStar and Kim Samuel). The current line-up consist of Minyoung (민영), Yujeong (유정), Eunji (은지), and Yuna (유나).
They debuted on April 7th, 2011 with the title track 'Do You Know' as a 5 member group consisting of the line-up of all past members Eunyoung (은영), Seo-a (서아), Yejin (예진), Yoojin (유진) and Hyeran (혜란). They followed up with 'So Sexy' and 'Easily' tracks later that same year. Brave Girls soon followed up with comebacks for 'Nowadays, You' (2012) and 'For You' (2013). After 2013 it was announced that the group would take a hiatus.
Brave Girls came back in 2016 with a whole new line-up with Hyeran and Yoojin left from the original line-up, Hayun (하윤) and the 4 current members. The title track 'Deepened' was a favorite among Big B Radio's staff and placed #27 on 2016 End of the Year chart. They soon followed up with the tracks 'High Heels' and 'Yoo Hoo' the same year. All 3 songs charted on Big B Radio's Listeners' Choice Weekly Countdown.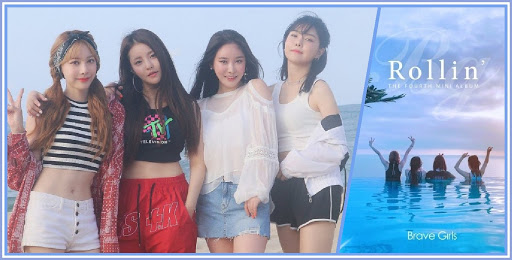 In early 2017 it was announced that Hyeran and Yoojin left the group. Brave Girls now began to promote with the second-line-up. (The current members consider 'Deepened' as their debut.) On March 7th, 2017 the 5 members came back with 'Rollin' from their 4th Mini Album titled the same name. 'Rollin' charted at #10 on Big B Radio's Listeners' Choice Weekly Countdown.
On August 11, 2018 the group released 'Rollin' (New Version) as a 4 member group with Hayun leaving the group. They would go on a hiatus once again to comeback with their most recent track, a city pop song called 'We Ride' in August of 2020. 'We Ride' charted at #13 on Big B Radio's Listeners' Choice Weekly Countdown.
On February 23, 2021 a Youtube Mash-Up of their single 'Rollin' went viral in Korea. Soon the girls earned their first #1 charting song when 'Rollin' went #1 on Bugs, soon it reached #1 on Melon, FLO and topping other Korean real-time charts.
---
Article created: 03-06-2021
"'Yoo Hoo' is one of my all time favorite songs, a true underrated bop." - DJ Mel
"Rollin and Deepened are my favorites of their songs." - DJ Rexie
"Glad Brave Girls is finally getting some recognition! Check out Deepened, one of my favorites by them." - DJ Truth
---
---
Brave Girls Social Media Links: